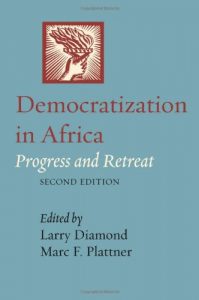 At a time when democracy seems to be in retreat in many parts of the world, Africa presents a more mixed picture. A number of African countries have been convulsed by high-profile crises, while others have quietly continued making progress on the difficult path toward democratic stability.
Democratization in Africa: Progress and Retreat brings into focus the complex landscape of African politics by pairing broad analytical surveys with country-specific case studies—most previously published in the Journal of Democracy and all written by prominent Africanists with deep knowledge of the continent and their subject countries.
Thematic chapters address some of the major forces working for and against African democracy: the phenomenon of "frontier Africa"; presidentialism; the rise of independent legislatures; the rule of law versus the "big man"; the institutionalization of political power; the decline of military coups; the paradox of growth without prosperity; and the roles of formal and informal institutions. Countries examined include Angola, Botswana, the Democratic Republic of the Congo, Ghana, Kenya, Liberia, Nigeria, Senegal, Sierra Leone, Somaliland, South Africa, Tanzania, Uganda, Zambia, and Zimbabwe.
Democratization in Africa: Progress and Retreat is an essential primer for students of African politics and those interested in the future of democracy around the world.
Contributors: Kate Baldwin, Joel D. Barkan, Michael Bratton, Michael Chege, John F. Clark, Larry Diamond, Steven Friedman, Kenneth Good, E. Gyimah-Boadi, Barak Hoffman, Richard Joseph, Seth Kaplan, Maina Kiai, Peter Lewis, Eldred Masunungure, Penda Mbow, Andrew M. Mwenda, Dave Peterson, Daniel N. Posner, H. Kwasi Prempeh, Lindsay Robinson, Paula Cristina Roque, Rotimi T. Suberu, Herbert F. Weiss, Christopher Wyrod, Daniel J. Young