Politics and Power in the Maghreb: Algeria, Tunisia and Morocco from Independence to the Arab Spring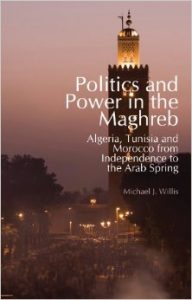 The world was stunned when the entrenched regime of Tunisia's Zine El Abidine Ben Ali was overthrown on January 14, 2011. This massive popular revolt shook the foundations of a small country, and its profound ramifications have echoed throughout the wider Arab world. Many wondered why they had failed to grasp the extent of Tunisia's unrest. They also recognized a general ignorance about the parts of the Arab world surrounding Tunisia, particularly the Maghreb region, which attracts only a fraction of the foreign interest largely directed toward Egypt, the Levant, and the Gulf.
This book examines the politics of three important players in the central Maghreb — Algeria, Tunisia, and Morocco — since they gained independence from European colonial rule in the 1950s and 1960s. Michael J. Willis maps the political dynamics of the region by focusing on the roles played by multiple actors, including the military, various political parties, and Islamist movements. He also examines cultural issues, such as the evolution and importance of Berber identity, and carefully weighs social and economic factors. Finally, he explores the relationship among the three states of the Maghreb and delves into the motivations driving their behavior toward outside powers.