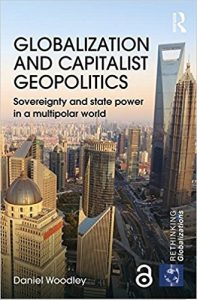 Globalization and Capitalist Geopolitics is concerned with the nature of corporate power against the backdrop of the decline of the West and the struggle by non-western states to challenge and overcome domination of the rest of the world by the West. This book argues that although the US continues to preside over a quasi-imperial system of power based on global military preponderance and financial statecraft, and remains reluctant to recognize the realities global economic convergence, the age of imperial state hegemony is giving way to a new international order characterized by capitalist sovereignty and competition between regional and transnational concentrations of economic power.
This title seeks to interrogate the structure of world order by examining leading approaches to globalization and political economy in international relations and international political economy. Breaking with the classical school, Woodley argues that geopolitics should be understood as a transnational strategic practice employed by powerful state actors, which mirrors predatory corporate rivalry for control over global resources and markets, reproducing the structural conditions for corporate power through the transnational state form of capital.
In a period of increasing geopolitical insecurity and economic instability this title provides an authoritative yet accessible commentary on debates on capitalism and globalization in the wake of the financial crisis. It is valuable resource for students and scholars seeking to develop a deeper understanding of the historical determinants of the changing dynamics of neoliberal capitalism and their implications for world order.