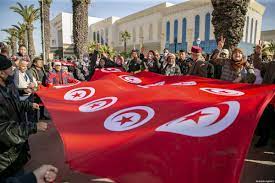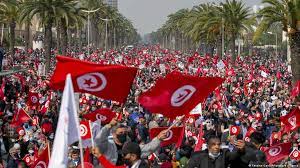 Although it is still popular among Tunisian youth, March 20, the day of Tunisia`s independence, has been marked by new protest against President Kais Saied.The day commemorates Tunisia's independence from France in 1956 and is often an occasion for major rallies and anti-government protests in the country.

Prior to this day, Tunisians mobilized on social platforms to organize demonstrations on the main streets of major Tunisian cities, especially Avenue Habib Bourguiba. The frequency of protest is increasing, given thousands of people participated in demonstrations form March 13 against the Tunisian president.

The demonstrations were organized by the Ennahda Movement, a self-defined Islamic democratic political party, also has a history of organizing large gatherings on days of historical significance, including holidays and the anniversaries of prominent political events. The Islamic party was supported by a movement named "Citizens Against the Coup". They helped Ennahda to organize the protests and to mobilized as many people as possible.

Large protests are particularly likely in Tunisia given popular dissatisfaction over rising unemployment and cost of living nationwide, issues that have already sparked demonstrations and labor strikes. Such grievances are becoming increasingly widespread as the government struggles to bring about political reforms and deliver on its economic promises.

After his controversial decisions,as dissolving Tunisia's parliament, suspending the country's constitution, and removing the prime minister on July 25, the president`s popularity decreased, although he is still the favorite politician after he pledged to bring about reforms and rid the country of alleged institutional corruption. However, the slow pace of implementation of the promised changes and the country's socio-economic conditions have worsened during his tenure, especially since the emergence of COVID-19. Therefore, although the Tunisian public has generally been supportive of the president's policies to date, it is unlikely that he can maintain his current level of support if the country's economy continues to deteriorate.

March 20 marked the final day of an online poll launched by Kais Saied in January in a process to help rewrite the country's constitution, with the results set to be presented to a committee of experts. He hoped that this tactic will bolster his authority, is scheduled for July, exactly a year after his power grab, with parliamentary elections scheduled for December.

It remains to be seen what will happen in the lives of the Tunisians and especially the position of the president in relation to the people he leads.