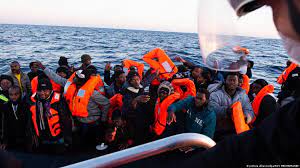 The International Organization of Migration (IOM) said that more that 1 000 migrants were rescued the past week and returned to Libya, according with The Middle East Monitor.
In the period of January 1-7, 1067 migrants were intercepted an returned to Libya in order to receive medical care.
In the rescued migrants included 53 women and 10 children, it added.
In 2022, 24,684 migrants were rescued and returned to Libya, the IOM revealed, adding 525 migrants died and 848 others went missing off the Libyan coast on the Central Mediterranean route.