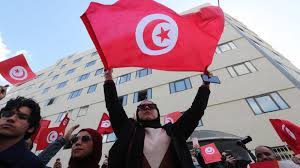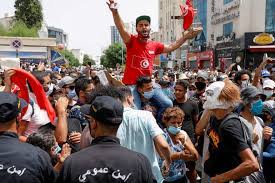 After a decade from the beginning of the Arab spring in Tunisia, the situation from the Middle Eastern country is, as their citizens are claiming, the same – the rate of poverty and unemployment is high, the threat of radicalization of the youth is raising and the political scene is unstable.
Few days ago the Tunisian parliament was suspended by the Tunisian president – Kais Saied, after a long lasting protests among the Tunisians.
Although their opponents named his action as a coup, the populations reaction speaks for it self. after the announce of the dismissal of the Government and the frozen of the Parliament, crowds of people quickly flooded the capital's streets, cheering and honking car horns in scenes that recalled the 2011 revolution that brought democracy and triggered the Arab spring protests that convulsed the Middle East.
In the recent years, the political scene of Tunisia was marked by corruption,  poverty, inefficient polices and increasingly violent street protests. Over all, the COVID -19 pandemic hammered the economy sector, which was already on the waterline.
The presidents action represent for some of the Tunisians a weak, but fresh hope, after a chaotic governance and the power struggle between the president, the PM and the speaker of the Parliament. Many people hope that these events are the first form a log list of the much-needed changes for a democratic country.
Instability and change of system in the after revolution period made it impossible to guarantee a total control of security in the country.
The crises is linked with the economic situation, most of the Tunisians are worried about covering their daily expenses and they believe that the situation is getting worse, especially in the context of the Covid -19 pandemic.
The role of the security forces in Tunisia had changed, as the civil society, activists and journalists noticed. More frequently the security forces are using violent measures to control the protesters, so many of the Tunisian people that are marching on the main streets of Tunisia were victims of violence attacks during peaceful protests.
The protests are expected to continue and escalate, as the gap between the presidents and the PM supporters worsens.
Until then, all we have to do is to watch the political struggle form Tunisia and to hope that the Tunisian society will triumph.